What happened? Was that book you bought less interesting than you thought? Wasn't that video game a real challenge for your abilities? Has that movie failed to keep you glued to the couch? Naturally, it takes more work to hit the target.
You should know that Google Play has a fairly extensive refund policy, so the steps to follow will depend on the type of product (apps, games, movies, music, TV shows, and e-books) that you have purchased. In any case, time is paramount; that is, the earlier you request a refund, the easier it will be for you to obtain it.
If you are interested in learning how to get a refund on the Google Play Store, this article is for you. Here's how to request a refund for an app, game, movie, music, TV show, or e-book previously purchased from the Google Play Store.
Play.google.com Refund Policy | Request a Refund from the Google Play Store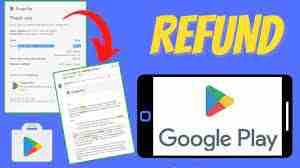 The Google Play Store offers a vast selection of apps, games, movies, and other digital content for Android users. Sometimes, however, you may purchase an item that doesn't doesn't meet your expectations or encounter issues with a purchase. In such cases, understanding the Play.google.com refund policy and knowing how to request a refund can be helpful. In this article, we will explore the refund policy of Play.google.com and guide you through the process of requesting a refund from the Google Play Store.
Play.google.com Refund Policy:
Eligibility for Refunds:
Google Play Store offers refunds for eligible purchases, including apps, games, in-app purchases, subscriptions, movies, TV shows, and books.
Timeframe for Refund Requests:
Generally, you have a limited timeframe to request a refund for a purchase. Google Play allows refunds within 48 hours for most app and game purchases. However, for movies, TV shows, books, and music, the refund window is usually limited to 7 days. Some subscriptions and in-app purchases may have different refund policies, so it's advisable to review the specific terms and conditions.
Automatic Refunds:
In certain cases, you may receive an automatic refund without needing to request one.
Non-Refundable Items:
While many purchases are eligible for refunds, there are some exceptions. Generally, non-refundable items include gift cards, prepaid cards, or promotional codes, as well as certain types of in-app purchases or subscriptions. It's important to review the refund policy for each specific item or service you intend to purchase.
Requesting a Refund from the Google Play Store:
1. Open the Google Play Store app on your Android device or visit the Play Store website on your computer.
2. Locate and access the "My Orders" or "Order History" section within the Google Play Store. This section typically contains a list of your recent purchases.
3. Find the item you wish to request a refund for and select it. Look for a "Refund" or "Request a Refund" option associated with the purchase.
4. Follow the prompts provided to complete the refund process. You may be asked to give a reason for the refund request.
5. After submitting the refund request, you will receive an email confirmation regarding the status of your refund. The refund amount will be credited back to your original payment method.
Note: If you are unable to find the refund option within the Google Play Store, you can contact the app developer or the Google Play support team directly for assistance.
Google Play Refund Policy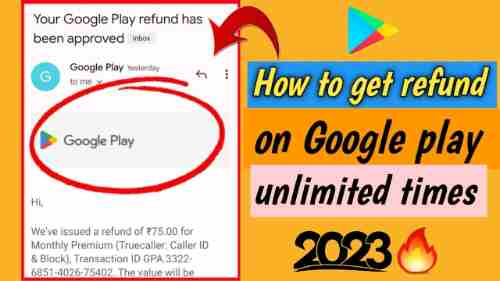 If you bought movies, music, books, or other digital content, and it's been 48 hours since the purchase, you might qualify for a refund.
The refund policies differ depending on the item. All approved refunds are processed back using the original form of payment whenever that is possible.
Google Play Refunds for Apps, Games, and In-App Purchases
How do you get a refund on the Play Store? Google Play refund policies state that Google only offers rebates for some purchases if they honor the 48-hour rule. If you want to get a refund after that timeframe, you should contact the app developer directly. They will determine whether you qualify for a refund according to their policies and legal requirements.
If you uninstall a paid app via the Play Store app within two hours after you purchase it, you should get an automatic refund. It is possible to return a game or an app and get a refund only once. If you repurchase the same item, your refund rights will be voided.
Google Play Movies Refund
If you want to return a movie or TV program because it doesn't play properly, Google Play recommends checking their tips to fix playback issues. In case you have other reasons, you might qualify for a refund under these rules:
If you still need to start watching and you change your mind, you have seven days after purchase to submit a refund request.
If the movie or other video content is faulty, unavailable, or malfunctions, your refund request window is 65 days.
Google Play Music Refund
If you want to cancel your Google Play Music subscription, you can do it at any point, but charged payments are non-refundable. Once you cancel, you can still use the service until the end of the paid subscription period. You can also try the DoNotPay virtual credit card if you want to use the trial period but want to avoid dealing with possible charges.
In case you don't like the item purchased through Google Play Music, you have seven days to change your mind, but only if you don't download or stream it.
Refund During The Next 48 hours After The Purchase
If you have yet to do a refund petition in the first two hours after the purchase, you won't be able to do it from the Google Play Store application. You will have to do it from the web version of Google Play, from the order history by visiting https://play.google.com/store/account refund or online form as if the app purchase were integrated. You can use this method only for the first 48 hours after the purchase. Although Google should communicate its decision within 15 minutes, it could take up to two business days. During the 48 hours, you will normally get our refund. Rarely Google did not accept our refund, but it could happen.
More Than 48 Hours After Purchase
If you haven't asked for a refund in the 48 hours after the purchase, Google will inform us that they can't really do anything – you have to contact the main developer of the app. From this point onwards, they will decide if you qualify for a refund. Nevertheless, You can always try and request a refund directly to Google Play anyway, following the previous steps to get your money back from Google Play. Google Play refund abuse and refund Google Play 2023
This article helps you with how to refund an app or game on the Google Play Store in 2023. What do you think about the Google Play app refund program? Have you ever gotten a refund from Google Play? Let us know in the comments! And do share this guide with your friends!
Check the status or history of a refund.
Google'sGoogle's online refund system has a refund progress checker built into it. If you requested a refund and didn't notice the money being refunded, or if the rebate still needs to be reflected in your bank account, you can check the status of your refund. Here'sHere's how:
Open the Google Play refund status checker.
Confirm the email address associated with the account that made the purchase. If you're logged in to the Google account you used for the purchase and refund, Google asks you to confirm or change the narrative.
After choosing the correct account, selectRevieww processed refunds or UnderRevieww.
Click Continue to see a list of the refunds that match the category. You can manage the repayments further from there.
Get that money back.
Google'sGoogle's refund system is automatic, so it may not make the correct decision. Contact Google's customer support if you need help figuring out why your refund was denied. And when you get that cash back, try one of the best alternative apps to find the one that best fits your situation.