The Lions Led By Donkeys podcast is a history-based podcast for the military for joking about the worst mistakes of commanders, incompetent leaders, and bizarre stories all over the world of conflict between humans. Our podcast will always be free, but if you think what we do is worth a buck, you can throw us one here: https://www.patreon.com/lionsledbydonkeys.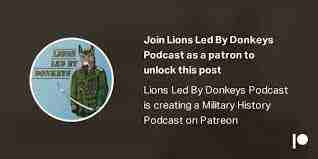 About Lions Led by Donkeys Podcast

The host's Joe and Nick host Nick and Joe. They discuss Military History while mocking inept commanders, battlefield mishaps, and everything else. Every Monday, new episodes are released. Bonus episodes three times per month. These include extra episodes on history review of movies and our brand new series within the LLBD universe: The History of Armenia.
The Podcast/Lions Led by Donkeys
Lions Led By Donkeys is an awesome weekly podcast about history focused on snarking about the mistakes of military leadership, incompetence, and generally bringing you bizarre tales from the front. The hosts, Joe Kassabian and Nick Cassanova, as well as part-time host Rich and a team of guest hosts, also discuss issues like animals during the war, the background of T-55 as well as the M-16 and taste some MREs and discuss films that are based on military history, regardless of how tenuous their connections to the real world.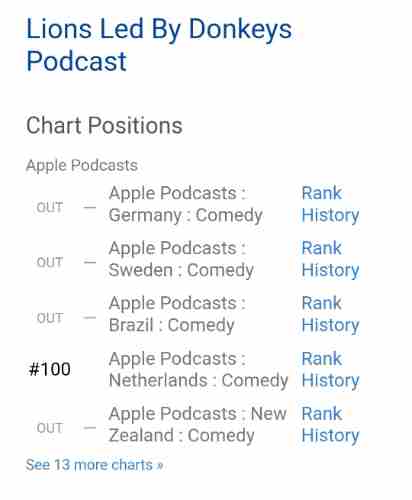 For more information, please visit the below links.
https://podcasts.apple.com/us/podcast/lions-led-by-donkeys-podcast/id1393845532
https://www.podbean.com/podcast-detail/rqumk-7960e/Lions-Led-By-Donkeys-Podcast
https://www.podchaser.com/podcasts/lions-led-by-donkeys-podcast-688375
https://play.anghami.com/podcast/1018327296?fallbackCDN=1&reason=timeout
https://www.patreon.com/lionsledbydonkeys
https://tvtropes.org/pmwiki/pmwiki.php/Podcast/LionsLedByDonkeys